Been a loooong looong time since I bought a new guitar, but getting the FM3 re-lit the spark and I decided it was time to finally buy a big-boy guitar. Also, the wife said I could.
Snagged this used on reverb, but it must be an open-box return, because it's in immaculate condition.
This thing absolutely smokes. The neck feels amazing, the body contours are great, and the neck heel sculpt is absolutely unreal. I've never played a Tone Zone 7 before, and you don't hear it mentioned much as a favorite for modern metal-ish sounds, so I was a little skeptical about it. It sounds gnarly as hell though. This is through the Engl Savage model on the FM3: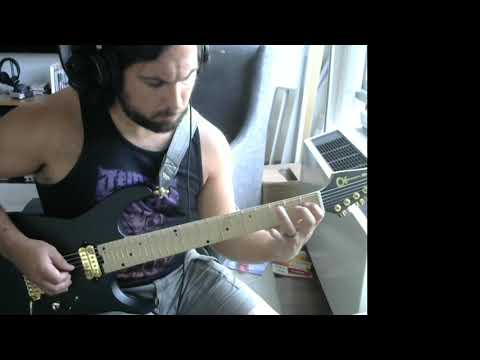 Rolling back the volume cleans it up a lot more pleasantly on a high gain amp/patch than my other guitars too. The Air Norton in the neck sounds great, which I expected. Didn't have a ton of time to mess with the split positions after getting it restrung and set up, but it sounds like there are a lot of fun sounds there too.
This is also my first maple fretboard and, I mean:
Anyway, shout out to Josh for inviting me over to play his, because that's what sold me on this model. I absolutely never thought I'd buy another guitar with a trem, but here we are. Pretty impressed with that too, so far. Other than the usual new string-itis, it seems to hold tuning pretty well, even when I'm using the trem.