This is connected to my
demo
in another thread and I thought this deserved a separate thread. Mr. Wong, owner of EART Guitars sponsored this guitar after making and releasing the video. Since it is "sponsored", I feel obliged to make my review!
https://www.youtube.com/watch?v=AMb127HeDvs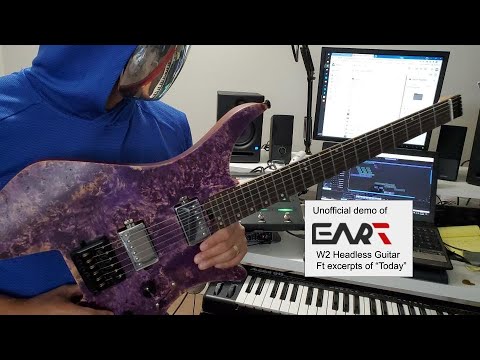 So, hello everyone! Now that I have been playing the guitar for a while, I am ready to share my experience with this guitar. Please do know that I am not a professional player. I am just a music amateur who likes playing in my free times! Big thanks to EART Guitars!
I have been wanting to try out a headless guitar without breaking the bank. I looked at what Amazon has to offer and chanced on EART guitars. It had a somewhat affordable price with a majority of good reviews, so I just had to try them out! I got a purple poplar burl veneer top. I actually wanted the blue or black one, but they run out really fast and only the purple ones were available at the time of my order. It actually looks really nice when I took it out of the box.
It has a nice-looking "carbonized" African redwood body. Monarchplank.com says that the "carbonization" of wood occurs through heat-treating. The heat literally caramelizes the naturally occurring sugars in the wood, creating a rich caramel brown color. Another source mentions that it also allegedly makes it incredibly durable, impervious to water and mold with flame retardant properties.
My qualms with the body shape is that the corner edges are too squared for my liking as they tend to be uncomfortable on my lap and ribs. I wished they were rounded a little bit more.
I also noticed that the location of the output jack makes it awkward for my right-angle jacks. It may work out best with straight jacks.
It has a bolt-on roasted maple and African mahogany five-piece neck with upper "C" and lower "U" profiles. The fretboard is made of Indian Rosewood with a Compound Radius of 9.5 to 14. It has 24 frets with stainless steel which makes bending notes very smooth! It is my first time trying out stainless steel frets and I am liking them! It has 10-46 strings loaded on it with a zero fret. The original strings are too stiff for me. I feel like I am fighting with it. I may try to down-tune this guitar to drop C.
Likewise, I was skeptical about the KD-type bridge as I have never seen them on a top-tier headless guitar. It is also different compared to the Steinberger or single-string barrel types. I have been playing this guitar for a few weeks already and it has not given me any problems. It has stayed in tune while I play. It has a lever key for tuning attached to the bridge magnetically. I am just worried that I may lose it. It is a little bit difficult to tune with your thumb and fingers, but doable, as they are cramped closely to each other. However, I think that is the case with all the other kinds of headless bridge systems.
I was skeptical at first about the nickel-covered pickups. However, it turned out to be actually good! It has more of a vintage sound to my ears. For a headless guitar, I would think modern-sounding pickups would fit better. I have to admit that I have a different preference for pickups. But, that's just me. Although I have not opened the control cover yet, the specs say that this has Alpha pots and a 223J capacitor. The pots feel smooth, volume and tone roll nicely in and out. The switch seems to click nice too.
EART stands for Electroacoustic Art and is pronounced as "Er-T" and not as "EAR-T". They build guitars in the Shandong Province in China. They have18 years of guitar production experience crafting electric guitars as well as acoustic and bass guitars. It is their desire to make quality instruments at the most affordable prices possible. For more information on EART guitars, please visit:
https://eartguitar.com/
.
I probably suck at doing reviews... which is why I prefer to stick with no-talk demos. But, I have to say that this guitar and brand is worth a try! They have other guitar models available such as telecasters, strats, superstrats, and etc. That's all folks!