There's a dude down here, Mike Rivera, who is a fucking KILLER guitarist and has a band, Made Of Metal, that does various tributes all the time. First time I met him was when a former band opened for him when they were doing a Pantera tribute. He's done Dio, Iron Maiden, I think Dokken and a bunch of other 80's metal. He usually uses different guys to fill out the band, especially vocalists. At the Pantera tribute they had this singer come out and do the high notes at the end of "Cemetary Gates" and this is the same dude that did the Dio set, if I remember right. Absolutely ridiculous singer. Mike's other project is with Nicko McBrain, they do a Bad Company tribute together….not what I expected, but that's gotta be fucking awesome for Mike because I know he's a huge Maiden nut. Nicko lives a few miles north of me in Coral Springs, not far from his rib joint, Rock N Roll Ribs.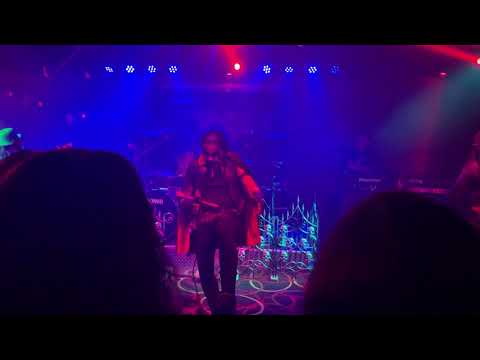 I didn't film much because I was too busy diggin' the set, they mixed up Mercyful fate and King stuff, which was fucking great. While Mike always nails the solos pretty accurately to the albums, the other guy did a pretty great job as well, Mike's just a bit more polished as that dude lives, eats, shits and breaths 80's metal and is just a great damn player.
My buddy Jeff was running sound and while he's not much younger than I am, he's much more into 90's music than the 80's. When I got there and said "Hey bro" to him, he goes "Haha I knew you'd be here! Hey, I don't know shit about King Diamond so let me know if I can tweak the mix any better.", I just told him "Every time I've seen him live, he's got a shitload of delay on his vocals, especially the high notes, so just ride it and whenever you hear him going up in pitch, rock that slider." He was standing next to me using an iPad to mix with, at one point he goes, "Thank god I've got a fucking tap tempo on this, these songs change tempo every 30 seconds!"
It's been so long since I've been to a local metal show, I shit my pants when I got in the parking lot and saw about 100 metalheads. It was glorious!
Shit, I just realized I forgot to talk to Mike about that 5150 head sitting there. I'm pretty sure it's one of the new ones. He was using his normal Randall rig with the old Dimebag Warhead cabs. He wasn't using the 2x15 though.